Compassionate, non-judgemental, qualified . . .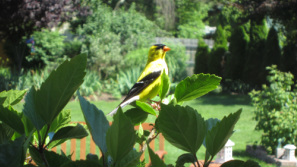 Eastern Goldfinch at CenterPeace
As a counseling partnership, we are two Licensed Professional Counselors who have been working in New Jersey as therapists/counselors for over 40 years combined. We are board-certified by the
National Board for Certified Counselors
to practice counseling and licensed by the
State of New Jersey Board of Professional Counselors
.
Prior to starting
CenterPeace Counseling,
we each worked in hospital settings, coordinating outpatient treatment programs. In our current practice, we specialize in providing individual, couples and family counseling based on a combination of techniques and theories that we believe assist our clients with resolving the issues that lead to each of them seeking counseling. We have provided counseling to many clients coping with the following, among other areas:
Marital conflict and family issues
Depression, Bipolar illness and other mood problems
Anxiety, panic attacks, OCD, phobias, and all other anxiety-based conditions
PTSD and other trauma reactions, including grief counseling
Recovery from childhood abuse, including physical, sexual and mental/emotional abuse
Children of Alcoholics/Addicts and the mentally ill
Addiction Recovery: alcohol, drugs, gambling, sex, relationships, food, work
Co-dependency and problems with boundaries
Sexual identity, Gender identity, and LGBTQIA issues
Adoption issues (parents and children)
Post-partum issues, including anxiety and depression
Parenting challenges
ADHD and other adolescence-related conditions
Work/occupational stress and career changes, including retirement
College stress and career counseling
Our mission is to assist our clients with using their own strengths to resolve their current problem areas and to begin the process of recovery from the point of view that all of us have the capacity and resources to make positive changes. We emphasize compassion, understanding, acceptance and kindness in our sessions with clients. It is our belief that, given the right conditions and understanding, most clients will begin to heal and will generate changes that are productive and fulfilling in their lives. It is our pleasure to assist our clients in this process.
---